suburban wildlife
DISCLAIMER
No, this is not turning into an pet and/or animal blog. Regular art service will resume momentarily.
I need help identifying my latest find after a recent early morning run in
Burns Bog.
This time of day and year is a gold mine of opportunity for wildlife enthusiasts -- and taxidermists. Zappa and I have had our fair share of close encounters, from the heron that flew up and practically knocked us over when we turned a corner, to a dead beaver. Early in summer is the best time to see the young hare, still too green to make themselves immediately scarce when a 65 lb carnivore of the speedy sheepdog variety is up the trail. These aren't the domestic bunnies released into the wild, then breeding like rabbits and wreaking havoc on gardens in suburbia, like these ones I photographed at the
University of Victoria
(hard to see, but there are at least three in the photo) last spring. These are speedy little brown hare, one of which Zappa caught last week, much to my amazement.
But it's not just the bog trails that provide wildlife, dead or alive. On morning runs in winter we've seen a coyote at the top of our street, a dead opossum on a highway and then once, when it actually snowed, we saw this:
followed by this:
Bob, next door, used to have a koi pond. Raccoon families and herons would regularly come and sample his wares. One winter day, realizing his makeshift net was a failure, he got desperate and exhumed a large doll from his wife's mountains of craft items to scare the herons away. That very same day I got this photo from my kitchen:
Bob gave up after that.
Larger animals enjoy the occasional take-out meal, too. As a teenager I lived in
Lions Bay
. Coming home late one night from a babysitting gig I discovered a bear outside my bedroom window, no doubt looking for fast food from our garbage cans.
I took this photo near Powell River last summer:
But I seriously digress. Zappa and I went for a routine morning run a couple of days ago and ran by this not-yet-fully-developed-but-no-shell-in-sight baby bird on the roadside near the entrance to the trail. I was so curious about this creature that, typically, I had to run home and get my camera. It was huge, about 18 cm or 7 inches long, and with only a few feathers, a long way from hatching. But what is it? The only birds I see regularly that would produce a fetus this size are Bald Eagles (we have a pair in the neighbourhood) or Great Blue Herons. It looks like a heron. Help?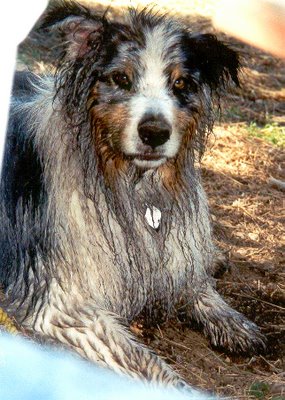 Zappa on a bad hair day