1001 uses for acrylic medium
Medium for acrylic painters is like the flour in a baker's kitchen. In simplest terms, it is the polymer emulsion in which pigments are suspended to create acrylic paint, but it has many other uses. Consider this an advertisement for the stuff, thinly disguised as an art lesson. Third possible interpretation: it's a self-congratulatory essay on my pioneering photo display technique. Or, as Greg would say, "Giving away all your secrets again, eh?"
Sometime last year I heard about making polymer transfers from magazine pictures for use in collages. The technique is simple: apply several coats of acrylic medium to the magazine cutout, allowing time for each layer to dry. When the final layer is dry, soak it in some warm, soapy water and then carefully peel off the paper. What you're left with is the image embedded in a thin sheet of plastic. Magic!
The first thing that occurred to me was that I could use my own digital photos, printed using a good-quality colour laser printer. Before I knew it I'd tried it myself and used the photos as collage elements in an acrylic painting. But recently I decided that I wanted to try the technique as a way to display digital photos as artwork. Here's what I came up with:
Using acrylic gloss medium, I applied ~10 coats of medium to my print. This took several days as I wanted each layer to dry completely. I used a small house painter's brush, stroking in a different direction each time. The resulting surface texture is a little like linen.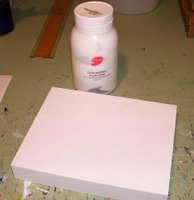 Meantime, I prepared the surface that would take the transfer. Opus cradled panels are perfect for this as the wooden panel is smooth, and the cradled sides mean it can be hung as-is to create a contemporary look without framing. But first they must be primed with several coats of gesso.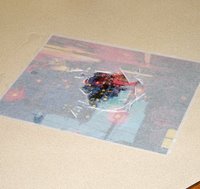 Once dry, I soaked the picture in warm, soapy water for a few minutes, gently peeled the paper off the back, rinsed and hung the polymer transfer up to dry.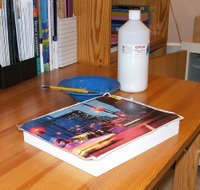 Next step: I applied a thin layer of my amazing and indispensable acrylic medium to the surface of the cradled panel and placed the transfer down on it. You will see that the image is slightly bigger than my 8" x 10" panel. I carefully pressed the image flat, working out the bubbles as I went. You will never master all the bubbles, no matter how careful you are, so I dealt with the last few stubborn hold-outs by pricking them with the tip of my x-acto knife.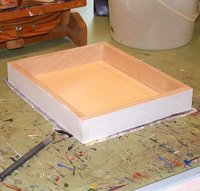 When I was satisfied that the image has adhered to the surface properly, I flipped it over and slowly cut away the excess transfer, using an x-acto knife. Take your time!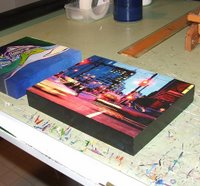 Almost there! I painted the edges using black acrylic paint because They say that 'black goes with everything,' but that's up to you. But wait! We're not done with our fabulously versatile acrylic medium. Cut 50-50 with water, gloss medium can make a decent varnish to seal the painted sides.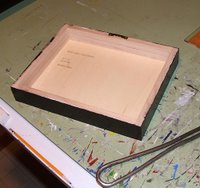 Putting hanging wire on the back of these panels is a bit tricky, so I used the kind of hanger you can get in any hardware store and voila! Photo art!